One of the most common questions I get from people wanting to visit the Canadian Rockies is where to stay to see all the national parks and get the best access to hiking, camping and wildlife.
Here is a guide rundown of some of the pros and cons of the different towns in and around the Rocky Mountain National Parks.
Banff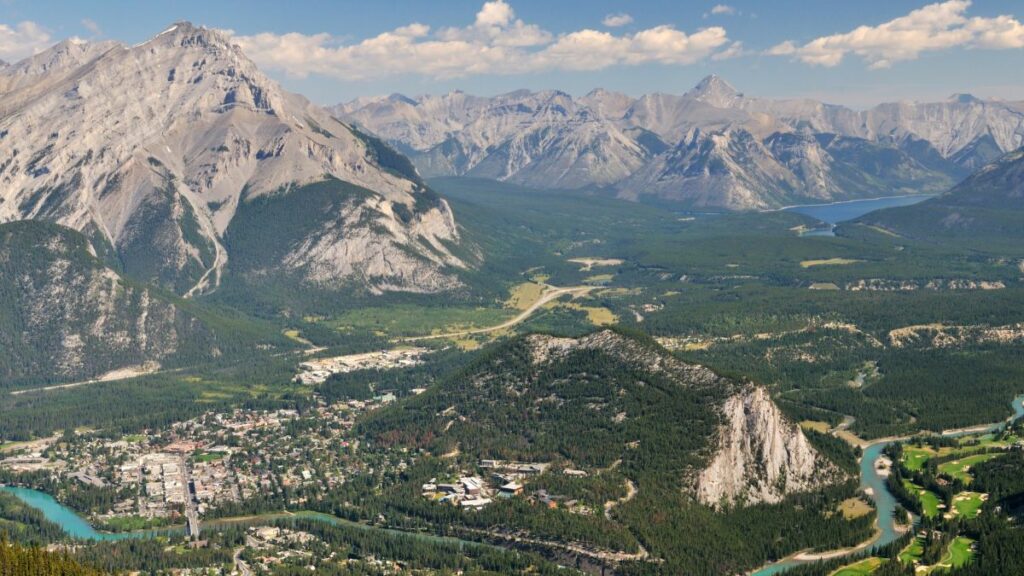 The centre of tourism in the Canadian Rockies, Banff has everything you need, by far the most attractions for a rainy day and quick access to hiking trails but it is also the most expensive and busy place to stay.
✅ Pros:
Iconic place steep in history and the highest concentration of historical sites, museums, hot springs, hotels and restaurants in the national parks.
Absolutely spectacular setting with Banff's downtown avenue perfectly aligned with awe-inspiring Cascade Mountain and epic views of Mount Rundle throughout the valley.
If you want to canoe or paddleboard, Vermillion Lakes is incredible and there's an excellent sighting gondola on Sulphur Mountain along with hot spring pools.
❌ Cons:
The highest prices for hotels, restaurants and can feel a bit like a tourist trap in places.
Tends to be the hardest place to find campsites in the summer although they often get last minute cancellations if take the risk and you just show up.
Canmore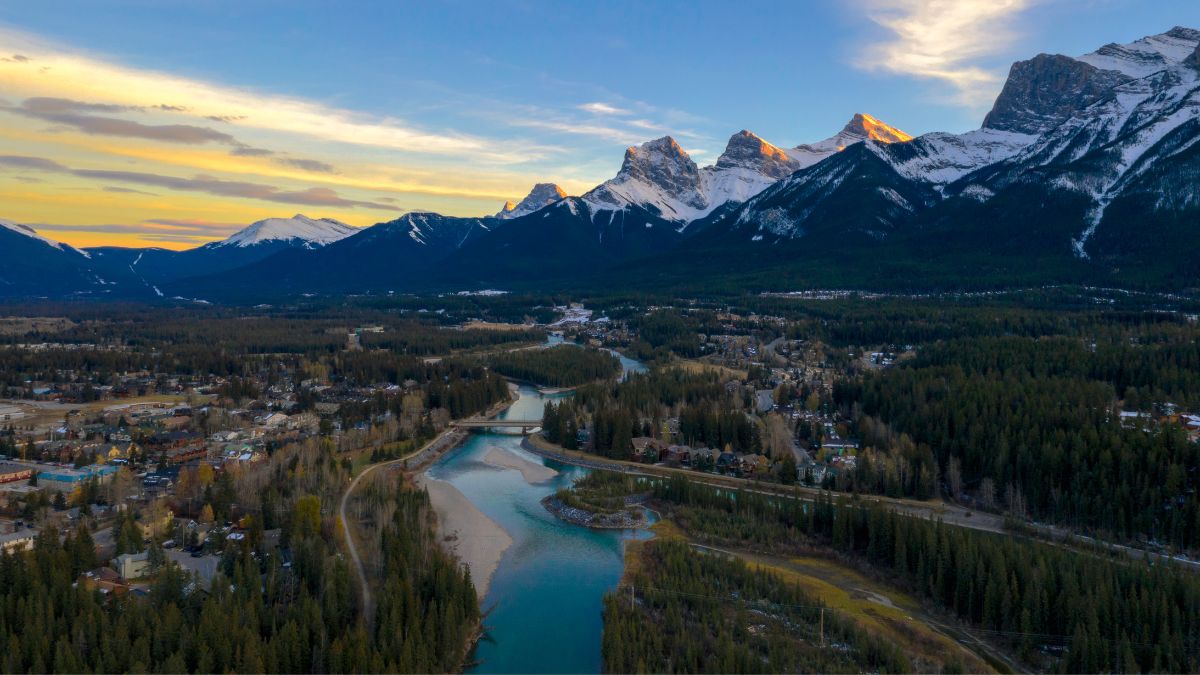 Canmore is a 20-minute drive east of the town of Banff and it offers almost as much for amenities, hiking trails and things to do. The best gateway for exploring Kananaskis Country and Banff National Park.
✅ Pros:
A rich history as a mining town and it is now one of Canada's most famous outdoor adventure towns with epic views on all sides particularly of the iconic Three Sisters and Mount Lougheed.
Better rock climbing options than Banff and the new Elevation Centre is ideal for indoor rock climbing and has a public pool (no hot springs here, unfortunately).
Less camping options and hotels but tends to be a bit cheaper than Banff but just as much hiking opportunities as nearby the town of Banff. Easy access to the Spray Lakes and Kananaskis Country.
❌ Cons:
You're not staying in Banff National Park but a 20-minute drive from the town of Banff.
Also very touristy but not nearly as much as Banff.
Kananaskis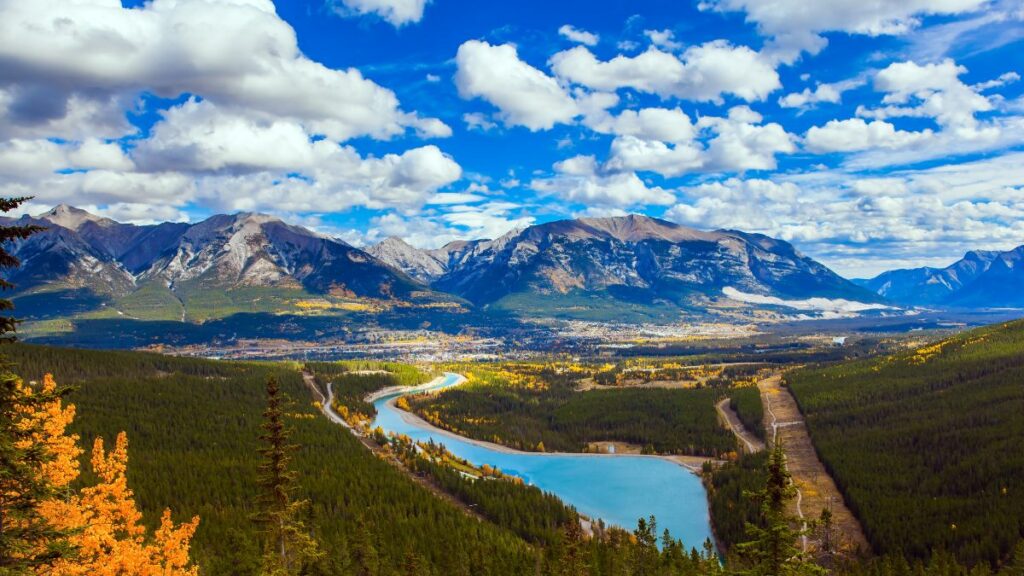 Kananaskis Village offers some higher-end hotels and there is a wilderness hostel there but overall there's not much happening here apart from a lot of wildlife, camping areas and hiking trails.
✅ Pros:
Quick access to the backcountry of Kananaskis Country and prime hiking spots like Galatea Lakes, Kananaskis Lakes, Spray Lakes and Rawson Lake.
It tends to be easier to find good camping sites in Kananaskis and if everything is booked up there's always Willow Rock on the edge of the Rockies that always has walk-in spots from my experience.
❌ Cons:
Not much in terms of cafes, restaurants, amenities or museums although there's a small but good museum at the Peter Lougheed Provincial Park Centre.
Not much of a town, nobody really lives here. You'll need to stock up on food in Calgary, Canmore or Banff and it can take an hour to get back to Canmore or Banff from Kananaskis Country.
Jasper
At the end of the Icefields Parkway is the beautiful town of Jasper, which is the best town to explore Jasper National Park with some of the world's best backcountry camping and hiking opportunities.
✅ Pros:
Jasper tends to be the best place in Canadian Rocky Mountain National Parks to see wildlife and it offers the best backcountry hiking and camping options along with being a massive Dark Sky zone.
Less touristy and in the summer it tends to attract the more hardcore mountaineers and explorers. The town still has a lot to offer in terms of restaurants, hotels, amenities and museums.
❌ Cons:
It's very isolated (which can be a good thing). It's a 413 kilometres long (257 miles) drive from Calgary that takes about 5 hours (double that if you want to stop and see the sights by the highway). It's a 3-4 hour drive from the town of Banff.
It can be a lot colder here than in Banff, Canmore or Kananaskis Country. It doesn't matter so much in the summer but in Spring and Fall expect some snow and cold nights that dip below freezing.
From November to March, nearly everything on the Icefields Parkway (Highway 93) is closed so no restrooms, gas stations and hostels (the town of Jasper is open but very quiet in the winter).
Lake Louise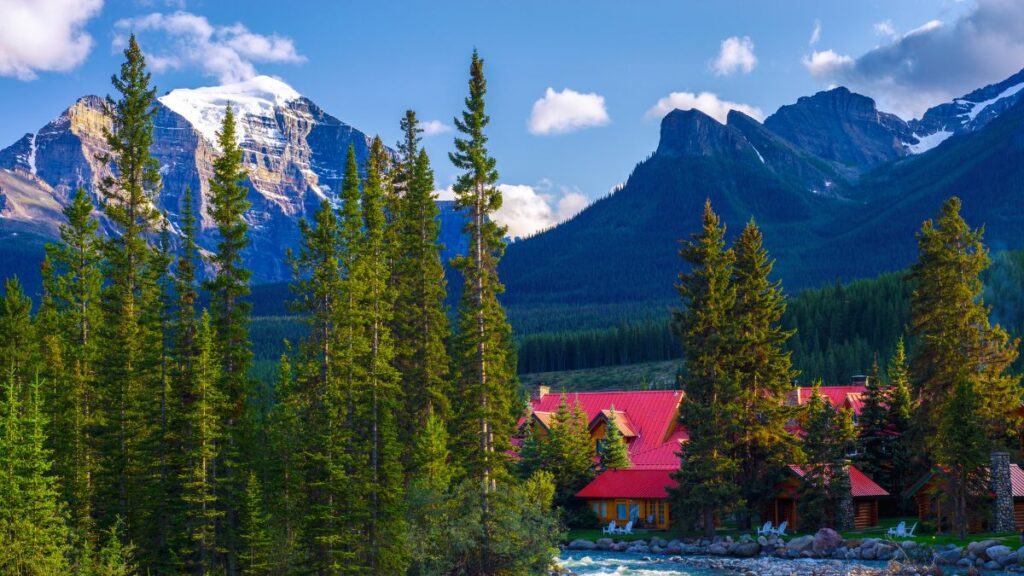 Although just a hamlet, Lake Louise is a good base 45 minutes deeper into Banff National Park than the town of Banff. Here you have quick access to the shuttles to iconic Lake Louise and Moraine Lake.
✅ Pros:
A small peaceful hamlet at the beginning of Icefields Parkway and quick access to Lake Louise Ski Resort in the winter, the best ski area in Banff National Park.
There's shuttles you need to book now to get to Lake Louise and Moraine Lake so staying here might make it slightly easier to coordinate visiting these two world famous sightseeing areas.
❌ Cons:
It's a hamlet so don't expect much in terms of restaurants, cafes or groceries but there is enough here to stock up on food for the drive north (much more options than in Kananaskis Village).
There aren't a lot of low-priced hotels here but you'll find a good hostel and a large selection of camping options.
While most international visitors come from Calgary, Alberta in the east to visit Banff and Jasper National Park if you're coming from Kelowna or Vancouver, British Columbia in the west then there are a number of beautiful mountain towns that provide quick access to Kootenay and Yoho National Parks, which are about 1-1.5 hours from Banff:
Radium Hot Springs (close to Kootenay National Park)
Fairmont Hot Springs (close to Kootenay National Park)
Invermere (close to Kootenay National Park)
Golden (close to Yoho National Park)
Field (close to Yoho National Park)
Valemount (close to Jasper National Park)
Hinton (close to Jasper National Park)
I hope this helps you identify the best base area to explore Banff, Jasper, Yoho, Kootenay and Kananaskis Country.
Ideally, I'd spend some time in all 5 places especially if you want to camp and do a lot of hiking as the trails are world-class in each destination.
Latest posts by Kyle Pearce
(see all)