Banff is the jewel of Canada's national park system and it was one of the world's first national parks when it was created on November 25, 1885.
Banff National Park encompasses 6,641 square kilometres (2,564 square miles) of awe-inspiring mountainous terrain and it is part of the massive Rocky Mountain National Park system that covers over 23,600 square kilometres (14,664 square miles), an area larger than over 60 countries.
This massive protected area is a UNESCO World Heritage site that runs along either side of the continental divide in the Canadian provinces of Alberta and British Columbia.
On the Alberta side, you have Banff, Jasper and Waterton National Parks along with Kananaskis Country and on the B.C. side, there is Yoho and Kootenay National Parks along with Mount Assiniboine, Hamber and Mount Robson Provincial Parks.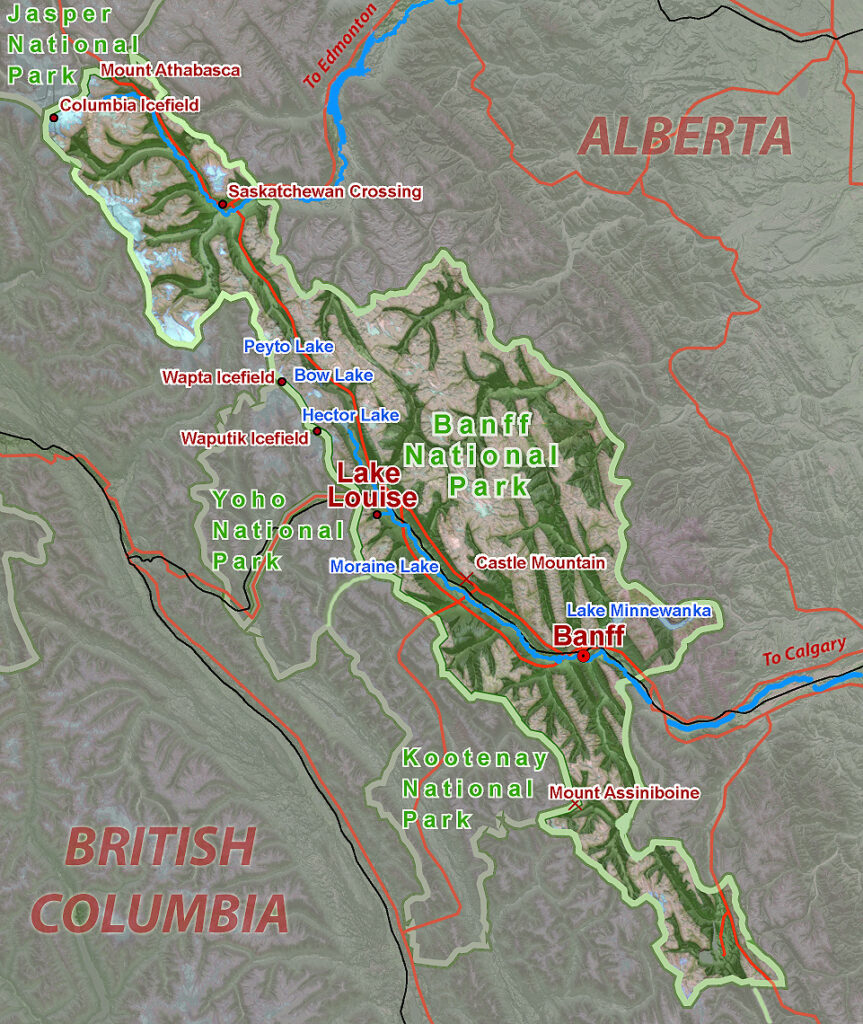 Image Credit: AudeVivere on Wikipedia.
The Banff Tourism Paradox
Banff gets over 4 million visitors a year (25% of all visits to Canada's National Parks) and since the COVID-19 pandemic, tourism has surged to record levels.
But most people who visit Banff rarely stray from the world famous tourism route along the Bow Valley Parkway that goes from the town of Banff to Lake Louise, Moraine Lake and then up the spectacular Icefields Parkway to the Colombia Icefields and to the town of Jasper.
This is a busy tourism route through the national park and the vast majority of visitors don't get more than 20 minutes from a busy parking lot yet beyond this lies some of the best hiking and backcountry camping opportunities found anywhere on Planet Earth.
Our mission is to help adventurous people who want to go deeper into exploring conservation, connection and education by going beyond the routine tourist trail to really experience the deep awe and wonder that comes from nature immersion.
Ecotourism In The Canadian Rockies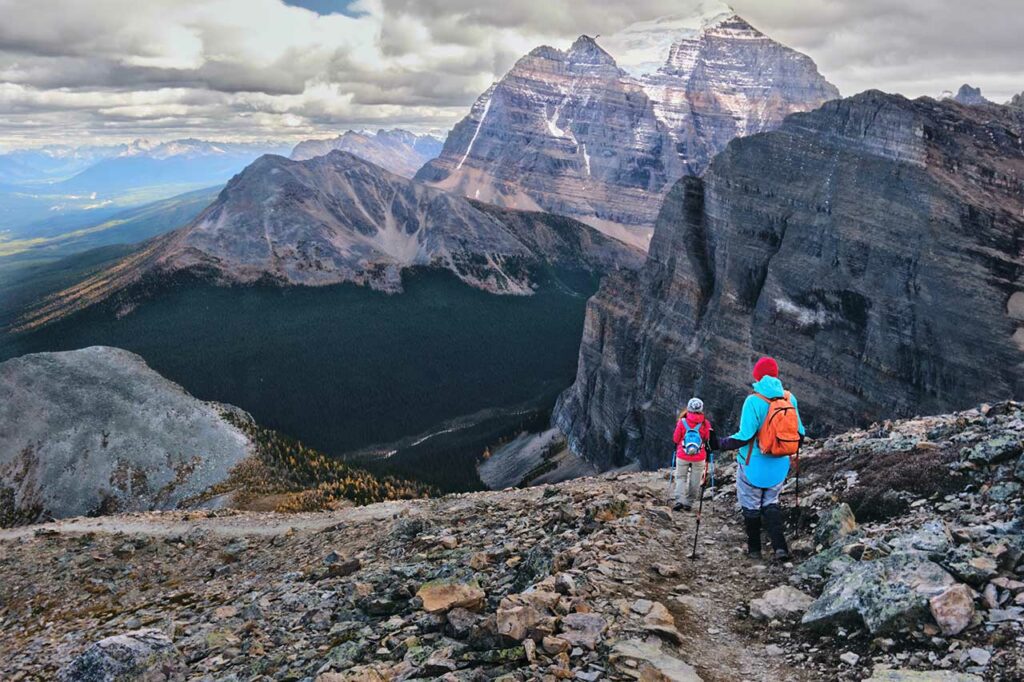 When most people think of ecotourism, Canada usually doesn't come to mind.
This is despite the fact that the massive Canadian National national park system covers 336,343 square kilometres (208,994 square miles) in 37 national parks and 10 national park reserves that represent 31 of Canada's 39 terrestrial natural regions.
Instead, it is small countries like Costa Rica, Iceland and Ecuador that instantly come to mind because those countries have done so much to promote themselves as world class ecotourism destinations.
We believe what Canada can offer in the Canadian Rockies region is truly unique. It is the ultimate outdoor education "classroom" to learn about the ecology of the North American continent while exploring the headwaters and upper reaches of many of the continent's most important river systems.
For example, at the Columbia Icefields Rivers flow into 3 major continental river systems that flow west to the Pacific Ocean, east to the Atlantic Ocean and north to the Arctic Ocean. There's even a river in the Southern Canadian Rockies that flow into the Missouri River and into the Mississippi basin that reaches the Gulf of Mexico!
We believe that Banff National Park and the UNESCO Rocky Mountain World Heritage Area have the potential to be one of the world's best ecotourism destinations.
And not just for the typical busy parking lot tourism where tourists rarely get off the beaten path, but as a way to experience peace and awe of the wilderness in a world where biodiversity is collapsing, landscapes are becoming increasingly human-designed and the majority of most people's waking hours are spent sitting and staring at screens.
Mindful Hiking, Flow And Peak Experiences
We believe that group hiking adventures can be a catalyst for not only learning about conservation, building a deeper connection to nature and learning about the interconnected world of ecosystems but also for tapping into flow states and peak experiences that invoke a powerful sense of awe and wonder.
If you would like to learn more about mindfulness, flow states and peak experience please join me for one of my upcoming online workshops.
If you would like to learn more about the Canadian Rockies and the ecology and sights of Banff National Park, I recommend watching this short documentary.
Latest posts by Kyle Pearce
(see all)